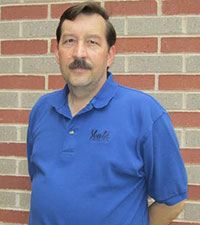 Kevin E. Peterson, CPP, CPOI, CIPM II
Mission Statement for the Security Pathway
To educate, advocate and promote in order to connect students with promising careers in the security, asset protection and loss prevention professions.
Supporting Objectives:
Continually engage in creating knowledge of and active interest insecurity career possibilities among students, teachers, parents and counselors
Educate an ever expanding stakeholder communityon career paths and advancement opportunities in the security-related professions
Provide resources to school administrators, teachers, counselors and others, including sample articulation agreements, curriculum models, sample lesson plans, reference material and professional connections to support educational activities related to the security field
Facilitate networking and sharing of best practices among teachers and schools involved in security programs
Track and publicize program successes at schools and career academies with security programs
Forge multilateral connections among security-related professional societies, employers, community colleges and secondary schools
Encourage students to pursue continuing education and training
Seek grants and funding sources to support security education and training programs
About the Career Field
Security services is a much broader and more interesting career field than many people – especially young people – think.  Even within the uniformed security officer arena there are diverse opportunities for entry-level positions and advancement.  Many officers move into positions of greater responsibility including supervisors, control center operators and trainers.  Other aspects of the security industry are corporate security staff, investigators, inspectors, cargo escorts, government security, retail loss prevention and security systems installers and vendors.  Each of these represent entry points for young people seeking career opportunities, and also offer the ability to move into other specialties within the general career field. 
The following information is taken from the Career Opportunities in Security brochure published by ASIS International, the leading professional association for security managers and executives. 
To the average person the idea of a career in security may be limited. The tendency for many people is to think only in terms of uniformed security officers on patrol, monitoring alarms, or controlling access to a facility. Those who may be interested in a career as a security professional need to understand that a wide range of administrative, technical, supervisory, and managerial opportunities also exist in the security field.
A Dynamic Industry - Security is one of the fastest-growing professional careers worldwide. A career in the security field provides a multitude of opportunities.
These opportunities range from entry-level security officer positions to investigators specializing in specific areas and managers and directors of security at major corporations and organizations around the world.
The demand for heightened security is being increased by theft of information, workplace violence, terrorism, and white collar crime. The security industry in the U.S. is a $350 billion a year business and growing. Opportunities exist at all levels within the security industry. All businesses, no matter how small, have security concerns such as fraud, theft, computer hacking, economic espionage, or workplace violence. All organizations need to protect themselves from activities that disrupt their normal operations.
The entire brochure is available here: ASIS Career Opportunities
Affiliated professional associations working with us:
ASIS International   www.asisonline.org
(through their Academic & Training Programs Council)
International Foundation for Protection Officers   www.ifpo.org